The Pixel 6a, released by Google in July 2022, is a mid-range smartphone with notable features. It boasts a 6.1-inch OLED display and is powered by the Google Tensor chip. The device sports a 12.2MP dual-camera system on the back and an 8MP front camera. Running on Android 12, it ensures security updates for at least five years.
The Pixel 6a offers exclusive features like Magic Eraser for removing unwanted objects from photos and Face Unblur for enhancing blurry faces. Available in Chalk, Charcoal, and Sage, the Pixel 6a starts at $449 with 128GB of storage. With its impressive camera capabilities and long-term software support, the Pixel 6a is a compelling choice for those seeking a mid-range smartphone.
Google Pixel 6a Specifications:
| Model | Pixel 6a |
| --- | --- |
| Announcement | May 11th, 2022 |
| Release Date | July 21st, 2022 |
| Starting Price | $449 / A$749 / €459 |
| Colors | Chalk, Charcoal, Sage |
| Storage | 128GB |
| Display | 6.1 inches OLED (1080p), 20:9 aspect ratio |
| Processor | Google Tensor |
| RAM | 6GB |
| Rear Camera(s) | 12.2MP (Wide) + 12MP (Ultra wide) |
| Battery | 4410mAh |
| Android Version | Android 12 |
| Weight | 178g (6.3oz) |
Pixel 6a pictures:
You will find the latest pictures from the Pixel 6a below.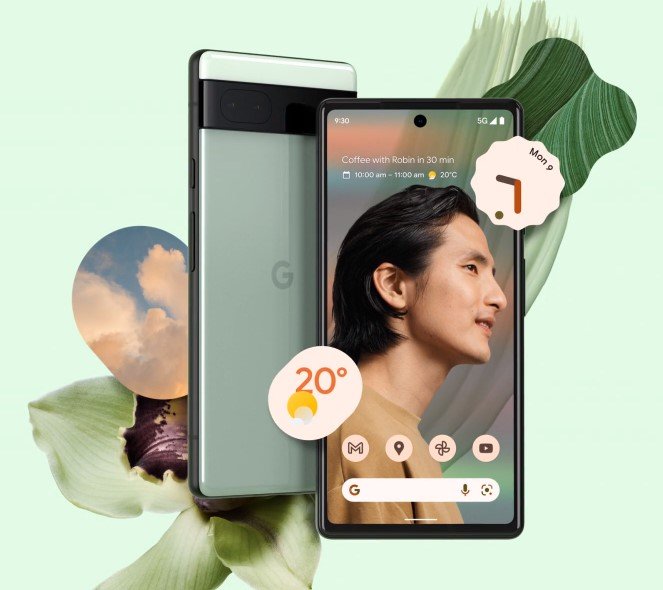 List of Pixel 6a issues:
Unfortunately, the Pixel 6a is already having a few problems, and users are not happy. Google seems to have improved a little bit the quality compared to the Pixel 6 and 6 Pro, but that's really a bummer to see all these issues on recent phones.
Fingerprint sensor: 
The in-display fingerprint sensor on the Pixel 6a has been a major source of complaints for many users. Some people have reported that the sensor is slow or inaccurate, while others have said that it simply doesn't work at all.
Connectivity issues: 
Some Pixel 6a users have reported problems with cellular connectivity, Wi-Fi, and Bluetooth. These issues can manifest in a variety of ways, such as dropped calls, slow data speeds, and difficulty connecting to Wi-Fi networks.
Battery life: 
The Pixel 6a has a decent battery life, but some users have reported that it doesn't last as long as they would like. This is especially true for users who use their phones heavily for gaming or streaming video.
Software bugs: 
The Pixel 6a has been plagued by software bugs since its release. These bugs have caused a variety of problems, such as freezing, crashing, and performance issues.
Has Google fixed the Pixel 6a issues?
Google has released a number of updates for the Pixel 6a in an attempt to fix these issues. However, some problems persist. If you are experiencing any of these issues, you can try the following troubleshooting steps:
Restart your phone: This may fix some minor software issues.
Clear the cache and data for the affected apps: This can help to resolve problems with specific apps.
Reset your phone: This will erase all of your data, so be sure to back it up first.
If you are still experiencing problems after trying these steps, you can contact Google support for help.
Is there a class action for the Pixel 6a ?
No class action yet for the Pixel 6a. But Google seems to have a lot of issues since the Pixel 6 and 6pro release, so there will be potentially a lot of new class actions for those new terminals (Pixel6 and 6pro, and Pixel 6a).