The Pixel Watch, a stylish and feature-rich smartwatch designed by Google, was announced during the Made by Google event on October 6, 2022 and started shipping on October 13th 2022.
it offers a sleek and minimalist design that appeals to users. With its water resistance of up to 50 meters, it can withstand various environments. The watch boasts a long-lasting battery, providing up to 24 hours of usage. It excels in fitness tracking, encompassing comprehensive capabilities to monitor activity levels. Additionally, it incorporates sleep tracking functionality to aid in improving sleep quality. With Google Assistant built-in, users can effortlessly accomplish tasks. The Pixel Watch is available in black and silver, starting at $349, making it an ideal choice for those seeking a stylish, comfortable, and feature-rich smartwatch that seamlessly integrates with their Pixel phone.
The watch runs on Wear OS 3.5 and has an AMOLED display with Gorilla Glass 5 and weighs 36g (1.26 oz) without band. The watch has been praised for its elegant design and smooth operation, but some users have reported issues with battery life, charging, and syncing, see blow for more issues.
The Pixel Watch 2 is set to arrive in October 2023 and should bring some nice improvements and welcomes new features.
Google Pixel Watch Specifications:
| Model | Pixel Watch |
| --- | --- |
| Announcement | October 6th, 2022 |
| Release Date | October 13th, 2022 |
| Starting Price | $349 |
| Colors | Champagne Gold / Hazel – Matte Black / Obsidian – Polished Silver / Charcoal |
| Storage | 32GB |
| Display | 30mm 320ppi AMOLED |
| Processor | Exynos 9110 SoC |
| RAM | 2GB |
| Battery | 294mAh |
| Android Version | Wear OS 3.5 |
| Weight | 36g (1.26 oz) |
Pixel Watch pictures:
This is some photos of the leaked Pixel Watch.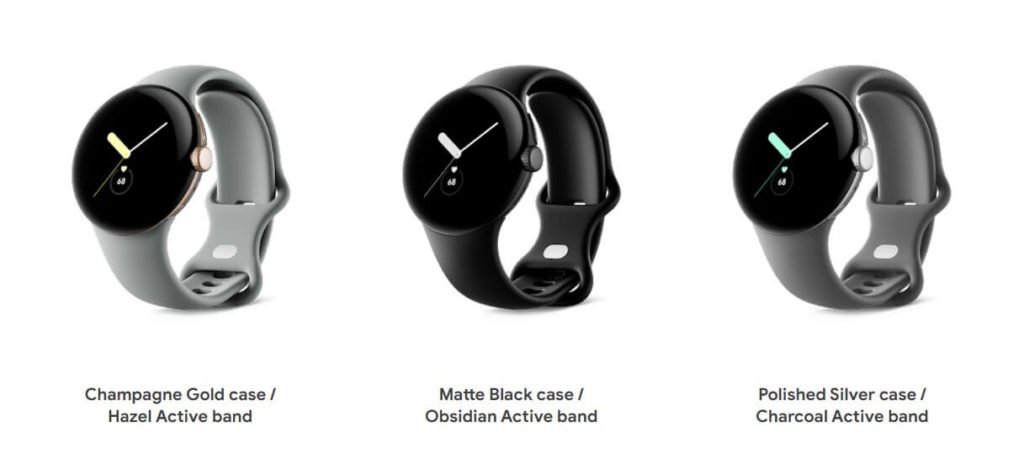 List of Pixel Watch issues:
Back glass falling off

A small portion of Pixel Watch users are encountering a problem where the back glass is detaching unexpectedly. This is happening even in cases where the watch hasn't suffered any drops or damage. The problem is more prevalent among watches that have been worn for multiple months. Google has recognized the issue and is actively investigating its origins to create a solution. In the interim, Google is recommending affected individuals to get in touch with customer support for help.
Delayed alarms:
Several users have noticed that their Pixel Watch alarms go off later than expected, sometimes up to 10 minutes. Google is aware of this problem and is actively working on a solution.
Speaker quality:
Some users have experienced poor speaker quality on their Pixel Watch, which results in crackling sounds during calls or when receiving notifications. Unfortunately, there is currently no known fix for this issue.
Heart rate problems:
Certain users have encountered issues with heart rate monitoring on their Pixel Watch. This includes either the watch completely ceasing to record heart rate data or the heart rate graph remaining flat at a specific rate for extended periods. Third-party watch faces may be the cause, so consider disabling them to see if the problem persists.
Battery drain:
A number of users have reported fast battery drainage on their Pixel Watch, even when the device is not actively in use. This could be due to factors like high display brightness, unnecessary app installations, or features such as the always-on display. Adjusting these settings or removing unnecessary apps may help alleviate the issue.
Connectivity problems:
Some Pixel Watch owners have experienced connectivity issues with Bluetooth or Wi-Fi, where the functionality does not work correctly. In many cases, a simple restart of the watch or your paired phone can resolve these connectivity problems.
Software bugs:
Several software bugs have been reported in relation to the Pixel Watch. Examples include unresponsive touch screens or instances where the user interface crashes. These issues are expected to be addressed and fixed in future software updates.
Pairing and syncing issues, particularly with Fitbit users
Charging issues, such as the watch not charging or not turning on
Battery life issues, including high battery drainage and overheating problems
Has Google fixed the Pixel Watch issues?
If you encounter any of these problems, you can try the following troubleshooting steps:
Restart both your watch and phone: This often resolves software-related issues.
Uninstall any third-party apps: Sometimes, conflicts with third-party apps can cause problems with the watch, so removing them might help.
Reset your watch to factory settings: This action erases all data on your watch, but it can fix persistent problems that other troubleshooting steps couldn't resolve.
Contact Google support: If you have exhausted all troubleshooting options and are still experiencing difficulties, reaching out to Google support is recommended for further assistance.
Is there a class action for the Pixel Watch ?
There are no class action started yet regarding the Pixel Watch. If problems continue to occurs or if there is come discovery around misconception, a class action might be started against Google.